Bruschetta Chicken Thighs
Serves 2
Gluten-free, dairy-free, nut-free, paleo
Ingredients:
4 chicken thighs
2 tbsp chopped rosemary
2 tbsp chopped parsley
2 tbsp chopped coriander
2 cloves minced garlic
1 tbsp lemon juice
½ tsp salt
2 tbsp olive oil
½ diced tomato
1 tbsp diced red onion
Cooking string
Method:
Preheat oven to 175*C and line a tray of baking paper.
Combine herbs, lemon juice, garlic, olive oil, and salt in a mixing bowl.
Lay chicken thighs skin-side down on the bench.
Separate the herb mixture into even portions and spoon mixture into the centre of the open thigh.
Spoon even amounts of tomato and onion on top of the herbs.
Fold chicken over so the mixture is in the centre and tie together like a present with the cooking string. Repeat for all thighs.
Coat chicken parcels with oily remnants of herb mixture.
Sprinkle salt and pepper on top to taste then bake in the oven for 45 minutes.
Serve with your favourite salad or veggies.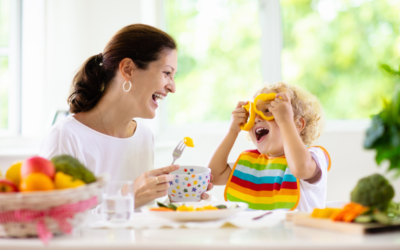 Some kids are just born on the move and some just have an incredible metabolism and are constantly saying those three words we don't always love to hear… "Mum I'm hungry" As a Mum of a very busy boy with ADHD, I'm always looking for ways to power pack healthy fats and...
Love our vibe?
Learn about becoming a part of our tribe of Mumpreneurs…