Health and wellness  is so much more than just physical fitness, it's also about emotional and mental health.  But taking care of your whole body is something many of us tend to overlook.
While physical health is often as simple as choosing exercise, proper nutrition, and decent sleep, taking care of our emotional needs isn't as simple.  This is usually because other people can directly affect how we feel about ourselves.  
So what can you do to be healthy in mind as well as body?
1. Create a Safe Environment
Unfortunately, we can't control the way other people think, the things they say, or their behaviour towards us.  But, there is one thing we can do, and that's control how we react and respond to negative or toxic behaviour.
One of the ways to take care of yourself is to protect your peace with a safe environment (you're worth it!).  Great ways to cultivate a safe space for yourself are:
Pay attention to triggers

Let go of negative people

Take a break from social media

Take time for yourself

Prioritize what's important to you and your family
2. Protect your Safe Space with Healthy Boundaries
Sometimes in our relationships, friendships and partnerships we find ourselves in a situation where we must set boundaries.  It's called 'Tough Love' and it means being able to say "enough is enough". Tough love says "I care about you and I love you, but I care about myself too and I will not allow you to hurt me or break my peace".
It doesn't matter who this person is, a friend of 20 years, your partner, or a family member.  No one should get a "but I can get away with it because" pass. Don't let yourself be taken for granted.
Unfortunately, for some of us,there may come a time when it is essential that we set a boundary with someone we hold dear to our heart.  But if you want a healthy relationship with that person, standing firm on what is acceptable behaviour is important.
To create that boundary remember to speak about how you feel, rather than condemning that person's behaviour. "I feel ______ when ______ this happens.  I need you to do ______ for me instead." If that boundary is stepped over by someone, then you need to reevaluate that relationship and if or how you can move forward with it.  Sometimes a frank discussion is needed, other times it's relationship counselling, or you may need to pull back entirely from that relationship.
Let's start making our space important, because when we do we are creating a level of health and wellness that enables us to be the best version of ourselves.  And that makes us awesome to be around!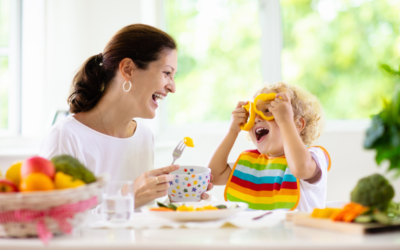 Some kids are just born on the move and some just have an incredible metabolism and are constantly saying those three words we don't always love to hear… "Mum I'm hungry" As a Mum of a very busy boy with ADHD, I'm always looking for ways to power pack healthy fats and...
read more
Love our vibe?
Learn about becoming a part of our tribe of Mumpreneurs…