Some days we need to treat ourselves to dessert (or dessert for breakfast) and we can keep it on the healthy side! It is strawberry season after all and who doesn't want a yummy, creamy strawberry treat that is packed with nutrition as well as taste!
Strawberries N Cream
What you'll need:
½ cup (110g) 2% plain cottage cheese
1 sachet (scoop) of vanilla Complete protein
2 tbsp unsweetened vanilla almond milk
1 ¼ cup sliced, fresh strawberries
2 tbsp sliced almonds
How to create:
To make the filling, place cottage cheese, vanilla Complete, ½ cup of the strawberries (keep the remaining strawberries for later) and almond milk in a blender; cover. Blend until smooth, scraping down sides as needed. If the mixture is too thick, you can add more almond milk (or water) 1 tbsp at a time.
Spoon half of the cottage cheese mixture into a serving bowl; top with half of the strawberries. Repeat with the remaining cottage cheese mixture and strawberries. Sprinkle the sliced almonds on top. Serve chilled.
Time to prepare – 15mins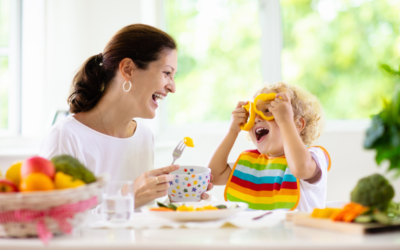 Some kids are just born on the move and some just have an incredible metabolism and are constantly saying those three words we don't always love to hear… "Mum I'm hungry" As a Mum of a very busy boy with ADHD, I'm always looking for ways to power pack healthy fats and...
Love our vibe?
Learn about becoming a part of our tribe of Mumpreneurs…