Allergy Friendly Blackforest Parfait
Who doesn't like a delicious brunch now and then? A warm stack of pancakes dripping with maple syrup, eggs benedict resplendent with hollandaise sauce, light as air crepes hiding a bounty of fruit inside…. The mouth waters, that is, unless your my daughter who (thanks to allergies) is unable to eat almost ANYTHING that's served for breakfast in a restaurant. So, I had to come up with something that was portable AND still felt like a treat. This recipe is great for a decadent (not everyday) breakfast, or as a dessert. It's egg, dairy, and gluten free.
Serves one person
Ingredients:
1 cup of gluten-free vanilla granola or muesli, plus one tablespoon extra for garnish.

¼ cup dairy-free chocolate chips

1 cup of pitted and halved cherries, plus one or two extra cherries for garnish.

1 cup of vanilla coconut yogurt
Method:
The least fun part – cut the cherries in half and remove the pits and set aside.

Then begin to layer your parfait into a tall glass (or, if you're taking this somewhere, a clear portable cup with a lid).

Put one third of the granola on the bottom of your glass, then follow with one third of the chocolate, one third of the yogurt, then one third of the cherries. Then the second third of all the ingredients, then the final third.

Take your 'plus one tablespoon' of granola and sprinkle it over the top of the parfait and add the cherry to the top (whole or halved).

Serve with a long handled spoon and perhaps a sprinkle of toasted coconut or mint leaves).

Yum!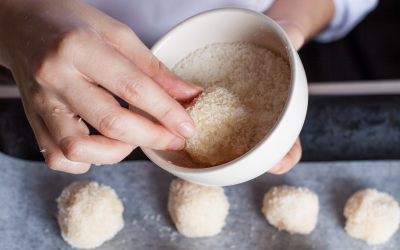 I love a simple no-bake recipe! These are super tasty and one of my favourite raw treats to have in the house. 2 cups cashews 1 cup shredded coconut (plus extra for rolling) ¼ cup dried dates 1 tsp vanilla paste 1 tbsp Tahini 2-3 pinches pink himalayan salt 2-3 tbsp...
read more
Love our vibe?
Learn about becoming a part of our tribe of Mumpreneurs…