Baked Salt and Pepper Wings
Two things my kids love: Chinese food and chicken wings. This recipe ticks both boxes, is pretty simple, and absolutely delicious! And the icing on the cake (well, the spice on the wings), is that it's dairy and gluten free!
Ingredients:
1 egg

2 tablespoons of light soy sauce

1 tbsp of rice wine

1 tbsp of water

1 tsp sugar 

2 cloves crushed garlic

1.5 kilos of chicken wings cut into drumettes and flats

4 tablespoons of gluten free plain flour

¼ tsp Chinese 5 Spice powder

1 tsp Malaysian curry powder

4 tsp salt

3 tsp pepper (crushed Szechuan if you have it)

2 cloves of minced garlic

4 sliced spring onions

Optional: two long red chillies – seeds removed – thinly sliced

2 tbsp coconut oil
Method:
Take the first five ingredients and whisk together in a bowl.  Throw in your wings and marinate for 30 minutes. If you don't have time, that's okay, just forget the garlic, toss the wings in there and then move onto the next step.

Preheat the oven to 200C.

Mix the flour, 5 Spice, curry powder, and salt and pepper in a bowl.

Add the wings to the flour mix and toss to evenly cover

Grease an oven pan with coconut oil and then add the wings to the pan.

Cook for 45 minutes, or until crisp, turning once at the halfway point.

When you have about 5 minutes to go on the wings take a frypan, add your two tbsp of coconut oil and bring it up to a medium heat on the stove.

Add the garlic and cook till lightly brown, then throw in the spring onions and chilli (if you're using it) and heat through.

Take out the wings (if they haven't crisped up yet, you can pop them under the grill for a couple of minutes) and place on a plate.

Pour over the garlic oil.

Add extra salt and pepper and even dried chilli flakes to taste.

Serve with rice and stir fried greens.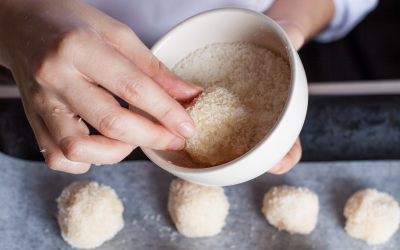 I love a simple no-bake recipe! These are super tasty and one of my favourite raw treats to have in the house. 2 cups cashews 1 cup shredded coconut (plus extra for rolling) ¼ cup dried dates 1 tsp vanilla paste 1 tbsp Tahini 2-3 pinches pink himalayan salt 2-3 tbsp...
read more
Love our vibe?
Learn about becoming a part of our tribe of Mumpreneurs…