I love visiting Louisiana in the USA. There is such a distinct culture and cuisine there, so much vibrancy, spice, and vitality. This recipe is a way to bring some of that delicious bayou flavour to your table (you can switch the snapper for your favourite fish or shellfish – just adjust cooking time accordingly). We like to serve it with pineapple salsa, salad, and steamed potatoes or jasmine rice.
Ingredients:
6 barramundi fillets

1/4 teaspoon ground dried chilli (omit if you don't like it spicy)

1 teaspoon paprika

1 teaspoon black pepper

1/2 teaspoon onion powder

1 teaspoon dried thyme

1 teaspoon dried basil

1/4 teaspoon dried oregano
2 tablespoons butter or vegan butter alternative
1 tablespoon olive oil
2 cloves of garlic, minced
Lemon to serve
Method:
On a large plate, mix together all the spices (or if you're lazy like me, you can just use 4-5 teaspoons of a pre-packaged Cajun seasoning).

In a small saucepan, melt your butter (or butter alternative), then brush both sides of each fish fillet with the butter (save the rest for later on).

Dip each fillet in the spice mix (coating each side).

Heat your oil in a fry pan til hot or you can heat up the BBQ (which I like best). Spoon over a bit more of the butter and pop the fish fillet onto the pan or BBQ hotplate butter side down.

Cook the fish till it is REALLY brown, then spoon over some more butter and flip it again.

Cook for about another 3 minutes then add the chopped garlic to the pan and let it cook in the buttery goodness next to the fish.

One minute more and you should have a nicely browned fillet that flakes if you test it with a fork.

Serve with pan juices, a wedge of lemon and enjoy!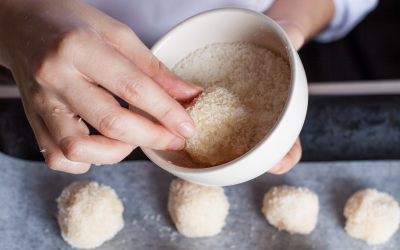 I love a simple no-bake recipe! These are super tasty and one of my favourite raw treats to have in the house. 2 cups cashews 1 cup shredded coconut (plus extra for rolling) ¼ cup dried dates 1 tsp vanilla paste 1 tbsp Tahini 2-3 pinches pink himalayan salt 2-3 tbsp...
read more
Love our vibe?
Learn about becoming a part of our tribe of Mumpreneurs…