Chicken and Avocado Rice Bowl
This yummy and healthy rice bowl will quickly become a family favourite and keep them asking for more!
Ingredients:
( 2 servings, double ingredients for 4 servings)
Rice ¾ cup

1 avocado

6 cherry/grape tomatoes

Corn kernels ½ cup (fresh or frozen organic)

Edamame or kidney beans ½ cup

2 chicken breasts

Coriander (cilantro) small bunch

Natural Pumpkin seeds ¼ cup

Natural Sesame seeds ¼ cup
Dressing Ingredients:
Honey ½ tsp

Extra virgin olive oil (3 tablespoons)

Juice from one whole lemon or lime
Method:
Cook rice using your preferred method.

Zest & juice lemon or lime

Grill/bake chicken breasts lightly spiced with salt/pepper or spices of your choice

Saute corn until lightly golden brown

Slice cherry/grape tomatoes

Cut avocado into 2cm squares

Roughly chop coriander

In a separate bowl, whisk lemon juice, olive oil and honey, add salt and pepper to taste

Fluff cooked rice

Separate rice into servings

Add sliced or chopped chicken breast to each bowl

Drizzle with lemon dressing

Add edamame, avocado, and corn and mix to each bowl

Top with roasted seeds, coriander and chopped tomato

Additional extras for some Mexican flair: sour cream, cheese, hot sauce, red onions.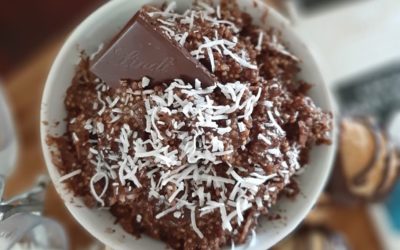 Is it just me or is chocolate for breakfast, as a healthy, lasting option the BEST news you've ever heard?  Now bear with me, I know "breakfast quinoa" does not sound delicious. But let your imagination focus on the chocolate macaroon part, and I promise you will NOT...
Love our vibe?
Learn about becoming a part of our tribe of Mumpreneurs…