Dad's Asian Greens, aka Dragon Food
My dad is a terrific cook, he was the first one who managed to convince my daughter to eat cooked vegetables.   I know lots of mums who also struggle with getting greens into their kids, so here's dad's secret: Dragon Food. He made a simple and delicious stir fried plate of greens and told a story of how dragons love to eat them to help with stomach upsets after a diet of too many rich people.  This combination of the bloodthirsty story and delicious flavours made this one of my little girl's favourite foods.
Ingredients:
1/3 cup oyster sauce

1 1/2 tbsps tamari or soy sauce

2 tsps Ketchup Manis

1 tbsp of water

2 cloves of minced garlic 

2 bunches of trimmed gai lan (Chinese broccoli) 

1 tsp of coconut oil
Method:
Cut gai lan so that the stems are in bite sized pieces and are on a separate part of your cutting board to the leafy bits.

In a wok or fry pan add oil and bring to a medium heat.

Add garlic and stems and stir fry for a couple of minutes.

Add the sauces and water and stir.

Add the leafy parts and stir till everything is tender.

Pop on a plate and enjoy with rice and your favourite Asian main course (I like to add some Sriracha to my greens – we call it 'the breath of the dragon'!).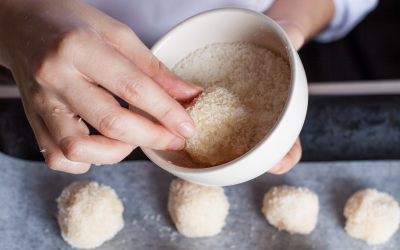 I love a simple no-bake recipe! These are super tasty and one of my favourite raw treats to have in the house. 2 cups cashews 1 cup shredded coconut (plus extra for rolling) ¼ cup dried dates 1 tsp vanilla paste 1 tbsp Tahini 2-3 pinches pink himalayan salt 2-3 tbsp...
read more
Love our vibe?
Learn about becoming a part of our tribe of Mumpreneurs…