Dairy-free Choc Hazelnut Spread
My daughter has some allergies that make enjoying treats a bit tricky. She loves chocolate, but can't have dairy, gluten, or eggs. So Nutella is off the list for her – along with many other (healthier) versions of the hazelnut spread. So, we tried out a few different homemade Nutella recipes and this is our favourite. Its dairy, gluten, and processed sugar free!
Ingredients:
1 1/2 cups roasted hazelnuts

1 tbsp of maple syrup (optional)

1 tsp pure vanilla extract

Pinch sea salt

1/3 cup dairy-free semi-sweet chocolate (chopped)
Method:
Preheat oven to 180C and add hazelnuts to a baking tray in a single layer. Roast for about 8-10 minutes just to warm the natural oils and loosen the skins.

Let the nuts cool a little, then pop onto a clean tea towel and given them a rub to remove the skins. You don't have to remove every single spec of skin, but the more you take off, the nicer your spread will be.

Next put the skinned hazelnuts into a food processor (with the S blade) or a high speed blender and process for around five minutes, scraping down when necessary. You know you've hit the right consistency when the spread is creamy and almost runny.

Next melt your chocolate in a double boiler (or a microwave in 30 second bursts).

Add the salt and vanilla extract to the nut butter and blend until well incorporated.

Add the melted chocolate to the food processor a little at a time, mixing in between.

Once you've added all the chocolate and blended it well, have a taste and add in more vanilla, salt, or some maple syrup to reach the taste you prefer.

Enjoy on bread, waffles, pancakes, or as a way to sandwich cookies. Put it in a pretty jar and use as a teacher gift, or a Christmas present. But definitely don't just eat it with a spoon. I'd NEVER do that…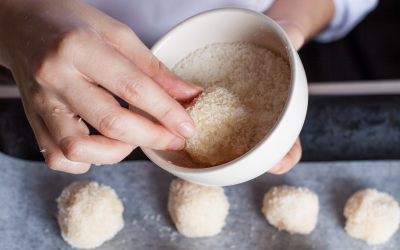 I love a simple no-bake recipe! These are super tasty and one of my favourite raw treats to have in the house. 2 cups cashews 1 cup shredded coconut (plus extra for rolling) ¼ cup dried dates 1 tsp vanilla paste 1 tbsp Tahini 2-3 pinches pink himalayan salt 2-3 tbsp...
read more
Love our vibe?
Learn about becoming a part of our tribe of Mumpreneurs…