These healthy granola bites are great for lunch box snacks, after school treats, or rushed mornings out the door. They are vegan, gluten free, nut free, kid friendly and freezer friendly too! The best part about this recipe is that it contains only the sugar from whole foods such as dates, bananas and blueberries which makes them just sweet enough to pass as a treat.
Ingredients:
2 large bananas

½ cup large pitted majool dates

¼ cup soften coconut oil

1 tsp pure vanilla

1 tsp cinnamon 

1 tsp baking powder

¼ tsp fine sea salt

2 cups gluten free oats

1/2 cup frozen blueberries
Method:
Preheat oven to 180C (350 degrees fahrenheit)

Combine the bananas, dates, coconut oil and vanilla in a food processor,

Add cinnamon, baking powder, salt and process until smooth,

Add 1 ½ cups of gluten free rolled oats until they are incorporated,

Stir in remaining ½ cup of granola and ½ cup of frozen blueberries,

Spoon mixture into mini muffin tin (24)

Bake for 10 minutes, rotate pan and bake for another 5-10 depending on the heat of your oven.

Store in an air tight container or freeze any remaining granola bites for up to 2-3 weeks.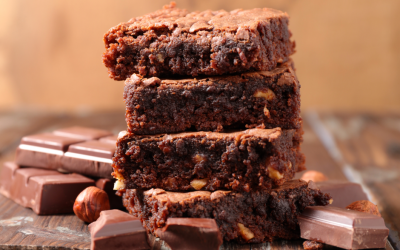 These delicious moist brownies are a favourite in our house! Paleo, gluten free, dairy free and sugar free. They are the only way I love my sweet potatoes after all they are meant to be sweet right?? Packed full of goodness and no nasties!! 2 medium sweet potatoes...
read more
Love our vibe?
Learn about becoming a part of our tribe of Mumpreneurs…