This is a delicious and simple lunch box (or after school) treat that the kids will love. It's packed full of healthy ingredients and is a much better choice than the store bought alternative.
Makes 16 slices
157 calories per slice
Ingredients:
3 cups (350g) natural Bircher Muesli (see notes for Gluten Free option) 

½ cup (50g) LSA – ground linseed, almonds and sunflower seeds 

3 eggs 

⅓ teaspoon vanilla 

½ teaspoon cinnamon

¼ cup (60ml) olive oil 

¼ cup (60ml) raw honey
Method:
Preheat oven to 160 C fan forced. 

Combine all ingredients in a bowl until mixed through. 

Spoon mixture into baking tin lined with baking paper.

Bake for 15 minutes or until golden brown. 

Cool then slice into 16 portions. 

These bars will store in the fridge for up to five days.
Tips:
For gluten free  or paleo diets substitute Bircher Muesli with three  cups of almond meal, seeds, walnuts & sun-dried dried fruit.
For those with egg allergies substitute for mashed banana.
Pump on the protein add a packet of vanilla protein powder.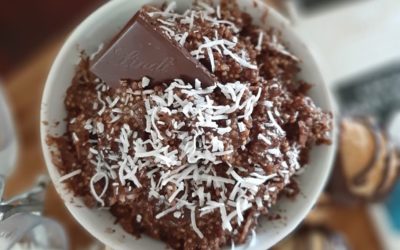 Is it just me or is chocolate for breakfast, as a healthy, lasting option the BEST news you've ever heard?  Now bear with me, I know "breakfast quinoa" does not sound delicious. But let your imagination focus on the chocolate macaroon part, and I promise you will NOT...
Love our vibe?
Learn about becoming a part of our tribe of Mumpreneurs…