Lunchbox Friendly Breaky Muffin
When it comes to staying on top of life, bake and freeze options are a blessing in disguise and these lunchbox friendly Breaky Muffins certainly make life easier. Quick, easy & delicious, the biggest challenge we seem to have is saving them for lunchboxes.
Ingredients:
1 cup plain flour

1 cup rolled oats

1 tsp baking powder

Pinch of salt

3 eggs

1 tsp vanilla extract

¼ cup honey

¼ cup milk

1 cup Greek yogurt

1 cup berries, or banana, or softened pear or apple **
Method:
Preheat oven to 180 C and grease a muffin tray.

Combine dry ingredients in a medium size bowl.

In separate bowl gently whisk together eggs, vanilla, honey, milk and yogurt until combined.

Stir together the wet and dry ingredients until combined. ** If you are only using one type of fruit, you can gently stir the fruit into the batter now.

Half fill the muffin cups with mixture, allowing space for the fruit and room for the muffins to rise in the oven.

Press a small amount of your choice of fruit to the centre of the mixture in each of the muffin cups.

Bake for 20 minutes or until the tops are golden and firm.

Allow the muffins to cool in the pan before transferring them into an airtight container and into the freezer.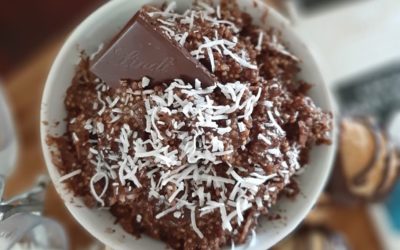 Is it just me or is chocolate for breakfast, as a healthy, lasting option the BEST news you've ever heard?  Now bear with me, I know "breakfast quinoa" does not sound delicious. But let your imagination focus on the chocolate macaroon part, and I promise you will NOT...
read more
Love our vibe?
Learn about becoming a part of our tribe of Mumpreneurs…