This isn't really cooking – just chopping and mixing, so a very simple recipe that brings sweet sour and hot elements to your plate.  It's a great accompaniment to Mexican, Cajun, and even some Asian dishes. Try it in a taco, with some stir fried teriyaki prawns, or in your san choy bow!
Ingredients:
½ a fresh pineapple

Handful of mint and/or coriander

2 long red chillies 

1 lime

Pinch of salt
Method: 
Chop your pineapple into small chunks (cubes around 1.5cm each side) and put into a bowl.

De-seed your chilis unless you like things really hot and then slice VERY finely (you can leave the chili out altogether if you don't like things spicy). Add the chilli to the pineapple.

Chiffonade your herbs and toss them in the bowl too.

Finally, squish the lime between your hand and the bench to release the juices, then cut in half.  Squeeze over the pineapple and add the pinch of salt.

Mix everything together and enjoy!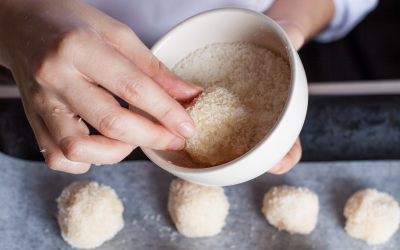 I love a simple no-bake recipe! These are super tasty and one of my favourite raw treats to have in the house. 2 cups cashews 1 cup shredded coconut (plus extra for rolling) ¼ cup dried dates 1 tsp vanilla paste 1 tbsp Tahini 2-3 pinches pink himalayan salt 2-3 tbsp...
read more
Love our vibe?
Learn about becoming a part of our tribe of Mumpreneurs…