Rustic Autumn Vegetable Soup
This hearty delicious soup is gluten free, dairy free and so packed full of goodness! It is so versatile you can really add or leave out anything you want! We sometimes love it with cooked gluten free pasta added in too! Just find any vegetables in your fridge you want to use up and chuck them in as well!
Ingredients:
Oil

3 cloves garlic crushed

1 knob ginger finely grated 

2 brown onions diced 

3 large carrots chopped 

Large bunch celery stalks chopped 

6 medium potatoes diced 

1 carton chicken stock

1 tin chickpeas

2 tins diced tomatoes 

Chopped Chives

Chopped parsley

2 cups water

Salt pepper to taste
Method:
Fry the onion, garlic and ginger in olive oil until tender

Add potato, carrot and celery cook for 5 mins

Add stock

Add tomatoes and chickpeas.

Bring all to a boil and simmer for 40 mins or until all is soft.

Add the herbs, salt and pepper to taste.
This soup can really work so well with anything you find in your fridge or cupboard, use up all your yummy veggies!! You can also add cooked pasta at the end if your kids prefer it!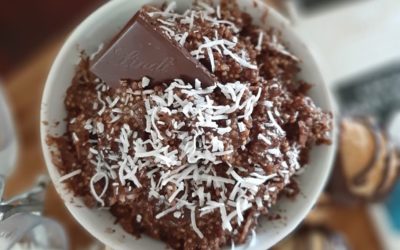 Is it just me or is chocolate for breakfast, as a healthy, lasting option the BEST news you've ever heard?  Now bear with me, I know "breakfast quinoa" does not sound delicious. But let your imagination focus on the chocolate macaroon part, and I promise you will NOT...
Love our vibe?
Learn about becoming a part of our tribe of Mumpreneurs…