Spinach and Sweet Potato Salad
Salads can be BORING, but not this one! The mix of sweet and salty from the sweet potato and feta cheese makes it a moreish, satisfying, and healthy  meal.
Ingredients:
Large handful of baby spinach 

1 medium size sweet potato 

½ block of feta 

½ cup of pine nuts 

Olive oil 

Salt & pepper

Balsamic vinegar 
Method:
Heat oven to 180 degrees C.

Cut sweet potato, drizzle with olive oil, add salt and pepper to taste,  then mix well.

Place sweet potato on tray and bake in the oven for around 10 -15 mins (or until cooked).

Toast pine nuts in a fry pan then set aside.

In a large bowl add baby spinach, chop or crumble feta, and add toasted pine nuts.

Once sweet potato is cooked add to the bowl with the other ingredients and mix.

If you like, you can drizzle a little balsamic vinegar over the top and mix ready for serving.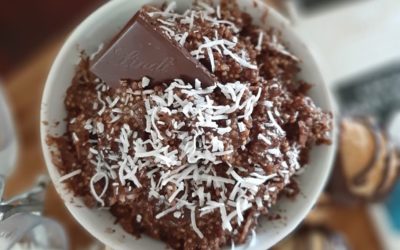 Is it just me or is chocolate for breakfast, as a healthy, lasting option the BEST news you've ever heard?  Now bear with me, I know "breakfast quinoa" does not sound delicious. But let your imagination focus on the chocolate macaroon part, and I promise you will NOT...
Love our vibe?
Learn about becoming a part of our tribe of Mumpreneurs…