This is an incredible vegetarian bolognese that doubles a delicious sauce for lasagne. It's also a great way to make use of more mature or bruised veggies.
Ingredients:
6 ripe tomatoes

2 capsicums

2 brown onions

3 garlic cloves

1 eggplant

1 zucchini

1 medium sized sweet potato

¼ cup finely chopped basil

¼ cup Worcestershire sauce

½ cup Olive Oil (or preferred oil)
Method:
Preheat oven on 200 C.

Dice tomatoes, capsicums, onions, eggplant, zucchini, and sweet potato and set aside.

Mince garlic cloves.

Combine all ingredients in zip lock bag or an airtight container and allow 20-30 min before roasting. If you're meal prepping, your sauce is ready to be placed in the freezer for later use.

Gently pour contents onto a lined baking tray and bake for 50-60 min at 180 degrees. A larger tray allows the veggies to be roasted evenly.

Once the veggies have reached your desired roasted look, remove from the oven and allow to cool.

Blend the roasted veggies including the sauces which it lay in, on high until the mixture is of a sooth and slightly runny consistency.

Add to your favourite pasta!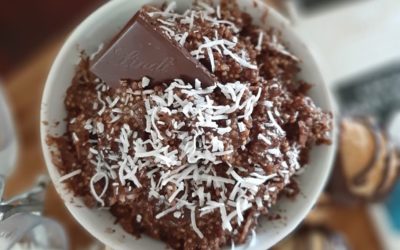 Is it just me or is chocolate for breakfast, as a healthy, lasting option the BEST news you've ever heard?  Now bear with me, I know "breakfast quinoa" does not sound delicious. But let your imagination focus on the chocolate macaroon part, and I promise you will NOT...
read more
Love our vibe?
Learn about becoming a part of our tribe of Mumpreneurs…