As the weather heats up nothing says refreshing like watermelon.  I love this recipe as an accompaniment to BBQ or a spicy curry. And if you're making Mexican, just swap out the mint for coriander and the chillies for a sprinkle of chipotle pepper.  No matter your cuisine of choice, this salad is super easy and has just the right balance of sweetness and zing!
Ingredients:
8 cups of seedless watermelon diced into 2cm cubes

¼ cup of fresh lime juice

½ cup of chopped mint leaves

Cracked black pepper

Pinch of salt

Optional: 2 tablespoons of thinly sliced green chilli (seeds removed)
Method:
Toss the first three ingredients together in a bowl and then sprinkle with sea salt. 

 Add some cracked black pepper and the chilli (depending on the preferences of the kids at the table) and stir.

Enjoy!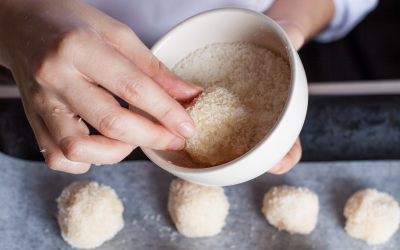 I love a simple no-bake recipe! These are super tasty and one of my favourite raw treats to have in the house. 2 cups cashews 1 cup shredded coconut (plus extra for rolling) ¼ cup dried dates 1 tsp vanilla paste 1 tbsp Tahini 2-3 pinches pink himalayan salt 2-3 tbsp...
read more
Love our vibe?
Learn about becoming a part of our tribe of Mumpreneurs…